About Us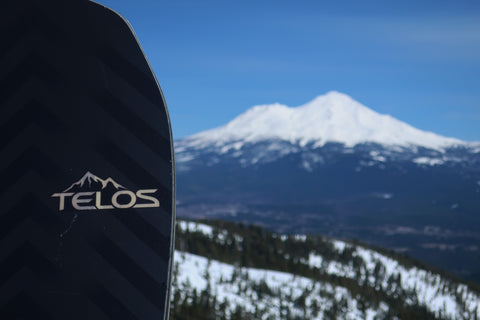 Inspired by Legend, Driven by Purpose        
The earliest snowboard production in Telos History, within the shadow of Mt Shasta, California spawned decades of Technological Innovations now used in our boards today. Legend has it that deep below Mt. Shasta, exists Telos, an ancient but Technologically Advanced Civilization, said to have once been the sister city of Atlantis and the connection to all that is natural in the world. The Inspiration for Telos graphics designs are derived from stories of this legendary city combined with the nature and geology of the surrounding volcanic mountain which snowboarding helps us to connect with.
te·los / ˈteläs / noun - an ultimate goal or purpose:
Snowboarding isn't something you just do, it's something you have to do. It's in your veins and flowing through your personality. As riders with more than 30 years of design, board building experience and our own factory, making the best riding snowboards isn't just something we do, it's something we have to do. It's in our DNA, our passion, our ultimate purpose, continually striving to make better boards and products to help you ride better.
Telos Snowboards engineer innovative shapes and technologies based on how a rider wants a snowboard to ride, by balancing flex and torsional stiffness, lightweight and durability, contact and stability and edge to edge control. Focusing on these key metrics helps to create the new and advanced ideas that continue to push the progression of snowboard design.
Telos Snowboards provide what riders want, and what riders want is simple; a board should be lightweight, durable, stable, easy to carve, perform well as its intended and all-around fun to ride! Telos offers the ultimate tools to make every day on the mountain your best!
What We Stand (Sideways) For
Values:
- Progressive technology driven design.
- Responsible production & distribution.
- Respectful of People and Environment.
Mission:
Telos Snowboards are meticulously and purposefully designed to create high quality boards which inspire innovation of the sport and that people are stoked to ride every day.
Made responsibly by snowboarders, for snowboarders:
*Hand made on planet earth
*With No VOC Epoxy
*Farmed Wood Cores
*Solvent Free Inks
*Die cut bases save waste & energy
*Low waste factory recycles all Wood, Paper, Metal & Plastic